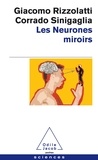 Les neurones miroirs / Giacomo Rizzolatti, Corrado Sinigaglia ; traduit de l'italien par Marilène Raiola
PPN :

15100238X
Publication :

Paris : O. Jacob, DL 2011
Description :

1 vol. (236 p.-[16] p. de pl.) : ill. en noir et en coul., couv. ill. en coul. ; 18 cm
ISBN :

978-2-7381-2592-7
Note :

Autre tirage : 2016
Belong to the serie :
Poches Odile Jacob
Subject - Topical Name :
Neurophysiologie | Neurones | Comportement humain | Neurones miroirs
Document type :

Livre
List(s) this item appears in:
IUT GEACS - Nouveautés 2ème semestre 2021
Item type
Current location
Call number
Status
Date due
Barcode
Item holds
Prêt normal
IUT de Rennes (GEA-CS)

IUT Rennes - Ouvrages

610 RIZ (Browse shelf)

Available

1680255448
Autre tirage : 2016
Bibliogr. p. [205]-226. Notes bibliogr. Index
À l'évidence, faire quelque chose et imaginer le faire ne reviennent pas au même. Et pourtant ! Il se pourrait bien que, pour notre cerveau, la pensée et l'action soient une seule et même chose. Voilà ce que révèlent Giacomo Rizzolatti et son équipe, qui ont découvert des neurones étonnants : ils s'activent lorsqu'on effectue une action, mais aussi lorsqu'on voit quelqu'un d'autre la réaliser. Ce livre décrit les stupéfiantes propriétés de ces " neurones miroirs", présente leur mécanisme et souligne leur importance. Ils sont les promoteurs du langage, ils expliquent pourquoi nous parlons aussi avec nos mains. Ils rendent compte de l'expression des émotions; ils sont le mécanisme de notre compréhension d'autrui. Au terme de ce parcours inédit dans le cerveau, une interrogation surgit : et si ces neurones miroirs étaient à la base de nos comportements sociaux ?